The Premise
For a while now, I've been fascinated by Monchi. The Sevilla Director of Football is one of football's best dealers – buying some of the world's best talents for low prices and selling them for a high profit. Dani Alves, Ivan Rakitic, Grzegorz Krychowiak and Sergio Ramos are just a few of the stars who have passed through Sevilla, earning the club a major profit.
It's a model that is often used in the stock market – buy low, sell high, but Monchi has applied it to football.
This summer, he is off to Roma, where it will be interesting to see how he will transfer his methods.
How does this transfer to Football Manager? Well, using my created manager Diego Maradona, I aim to transfer Monchi's intricate methods to my recruitment in the game. Think of it as a form of moneyball, as made popular by Alex Stewart's Moneyball series on The Set Pieces, but with a specific way of recruiting.
The Method
I was particularly taken by a Guardian article in it, Monchi describes Sevilla's methods of recruitment:
"Sixteen people cover a series of leagues. For the first five months we watch a lot of football but with no particular aim: we're just accumulating data. Every month we produce an ideal XI for each league. Then in December we start watching players who appeared regularly in different contexts – home, away, international – to build the broadest possible profile."
Monchi pulls out his phone and, carefully reducing the image so the names can't be seen, says: "That gives us this." A colour-coded spreadsheet shows players by position. Around 250 potential targets, in all positions. "The manager says: 'I want a left-back who averages 11km a game, runs 800m at full speed, uses both feet.' And from these, 10 will fit."
I will be using this method in my Football Manager save. I'll monitor the leagues and create ideal XI sides for as many leagues as I can, using these to identify the ideal signing needed. I talked about this during episode 98 of The Deep Lying Podcast.
The Manager
Diego Maradona. Yes, that Diego Maradona. The Argentine international returns to Sevilla, where he suffered an ill-fated spell before returning to his homeland in 1993.
Whilst there, Maradona became friends with a back-up goalkeeper – Monchi.
The Story To Date
I took over Sevilla on the 1st of January 2017, with the club lying in 11th place and someway off where they should be.
I brought in Rodrigo Bentancur from Boca and Frederico Venacio from Vit. Setubal, whilst the likes of Tremoulinas, Mariano and Sarabia all left the club. We spent £6.5million and brought in £15million, meaning my first window resulted in a profit.
Things would go okay and I managed to guide Sevilla to a 7th place finish and qualification for the Europa League.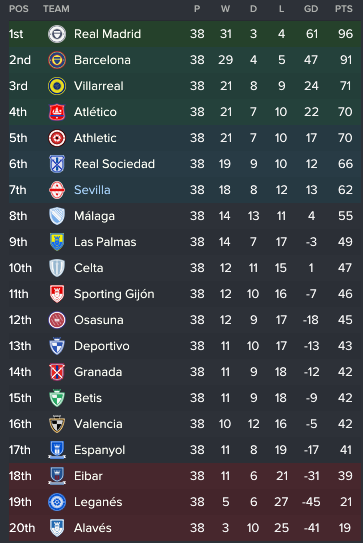 The summer was an important one as it was the first real chance for me to implement my recruitment strategy.
I spent £48 million, but brought in £79 million as my recruitment strategy went to work.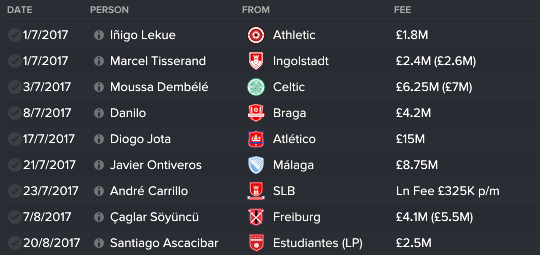 Many talented players were bought for low fees – Tisserand (£2.4m), Dembele (£6.25m), Danilo (£4.2m), Ascacibar (£2.5m), who I all thought could be sold on for a big profit in the future.
Big names left the club – Steven N'Zonzi joined Napoli for £23m, Ben Yedder joined Everton for £17.5m and Sergio Escudero joined Schalke for £13m. All represented profit on their incoming fees.
Our pre-season couldn't have got off to a better start – going unbeaten. In the league, it was a different story. We went five games without recording our first win – a 1-0 home win against Deportivo. This barren spell included a humiliating 7-2 loss against Barcelona at the Nou Camp.
After 19 games, we were in the relegation zone and couldn't buy a win. In fact, I'd only bought 3 wins all season.
It was one of the worst spells I'd ever had on Football Manager. Nothing I did worked. What was even more frustrating was that we were flying in the Europa League, winning 5 of our six games and topping the group.
After a 2-0 loss against Cordoba, our fifth straight loss, I was sacked. Diego Maradona and Sevilla obviously aren't meant to be together.
Life After Maradona
For Sevilla, their new manager Fermin Galeote managed to steady the ship. He managed to get enough wins to push Sevilla up the table, securing a 13th place finish. He even managed to beat Cordoba 4-0.
What next for Diego?
After going 5 months unemployed, in which he went on a complete bender in true Maradona style, Diego was offered a job in Italy. Where? Naples. That's where our story continues.